One of the very first thing I do when I start watching  a new show is that I try to find a celebrity that I know, who look alike with someone in the new show. So you can imagine that is what happened with Doctor Who. This show has so many actors which I think it is relatively easy for me to find a Doctor or a companion who look alike with another celebrity.
The very first Doctor I thought of was the 9th Doctor, Christopher Eccleston. I think he %70 similar to a famous soccer player that I know from 10 years ago. The name of the player is Zlatan Ibrahimovic. However, after giving it more thoughts, I think the two are twins. Here is a picture of the two, and I think it would be hard for some of you to which one is the Doctor.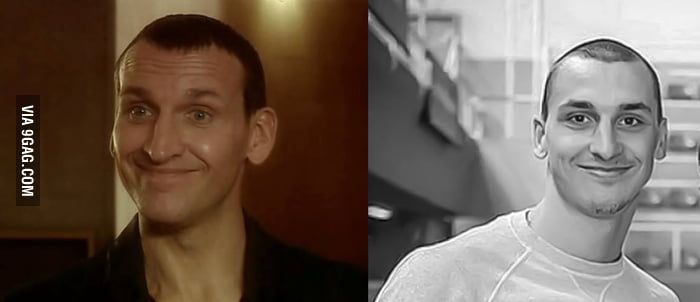 I do not think there are many people who think the same as me, but the two are the same for me.
While comparing the 9th Doctor with Zlatan, I came across another celebrity who is more famous of looking alike one of the Doctors. This celebrity is from England, and he is more famous than Zlatan. So our Doctor this time is the 10th Doctor, David Tennant. Richard Hammond, television host of the famous British TV show, Top Gear. Finding the similarity between the two did not take much time for me. Apparently so many fans think that the two look alike. Here a picture of the famous two celebrities.
David looks like the young version of Richard. Anyway, I am sure there are many other Doctors or companions. That is the only two so far that I found. I hope for the future to find more and more actors who look alike other actor that I know.